BUYING AT LAKE PANORAMA 101
Lake Panorama | Panora, Iowa
Research
Familiarize yourself with the lake market by visiting websites like Realtor.com, Zillow and Sunsetrealtyia.com. Have a general wish list:
# of bedrooms, # of bathrooms
square footage
Will this be your primary home or a second/vacation home?
Private family home or condominium/townhome?
Budget
Determine what your budget will be for your lake home!
Waterfront homes generally start in the $500K range and are selling as high as $2M. The five-year average from 2017-2021 was $590K. The 2021 average waterfront home was $790K. Offshore homes are creeping up as well. Starting in the $250K range and now some have sold over $500K. The five-year average (2017-2021) was $265K. The average offshore home in 2021 was $317K.
Waterfront condos have gone from a five-year average selling price, 2017-2021, of $347K to averaging $400K at the end of 2021. Offshore Condos haven't made as dramatic of a jump but in 2021, the average offshore condo was $198,200 up from $188K
Pre-Qualification
If your method of payment is a mortgage, talk to your lender and get prequalified for a loan. A prequalification letter is helpful to make your offer stronger.
Be Ready
We have been in a strong Seller's market since 2020, which means very little inventory and lots of Buyers. The Buyer must be ready to MOVE on a property when it comes available. The least amount of contingencies the better. Ask your Realtor how to make your offer more attractive, and it is NOT a love letter to the Sellers!
Find the right Real Estate Agent
Find a Realtor that you trust and who has local knowledge of the area. They will have all the helpful information on areas and details of Lake Panorama that isn't easily accessible to most. Your Realtor's knowledge of the homebuying process, negotiating skills and familiarity of the area can be invaluable.
Shop for Homes
Call your agent to set up appointments to see the homes that you are interested in. You might be tempted to just take a drive and hope to see some homes, but not all the homes for sale are vacant! Also, you will want to tour homes that will best fit you and your family's needs. Your Realtor might suggest homes you hadn't considered.
Ready to Find Your Dream Home?
Things to think about when shopping for a home at Lake Panorama:
How will my family use the lake?

Water: Skiing, Wake Surfing, Jet Skiing, Boating, Fishing
Golfing: LPN 18 Hole GC or Panorama West Par 3
Social Life: Lots of activity or a place to get away

What is important for our home at Lake Panorama?

View

Water Depth

Gently sloping lot or flatter lot

House is close to the water

No steep driveway

Lot size

Sunrise/sunset

Close to town
Cost of Maintenance:

 

There will be extra costs that are part of lake living. Hire it done or do it yourself…it is something to plan for!
Ask Sunset Realty how you can be the first to know about a new listing at Lake Panorama!
What's up with…
Docks and Lifts: Most will need to be removed in the fall and reinstalled in the spring. Lake Panorama has two Barge Companies that will do this work for you. In some of the smaller coves, you can leave them in all year.
Landscaping/Mowing/Snow Removal: Homeowners are responsible for these on their property. The Lake Association plows the snow on the roads and mows some roadsides. For the names of our preferred vendors, check our list.
Boats: For all the boating regulations and rules, click here. 
Storage: You have some boat storage options. Check with Coulter Panorama Marine or Scott's Outdoor Supply for pricing and availability.
Sunset Realty Agent can help with almost all of these questions and you will want to reference the LPA Website often! www.Lakepanorama.org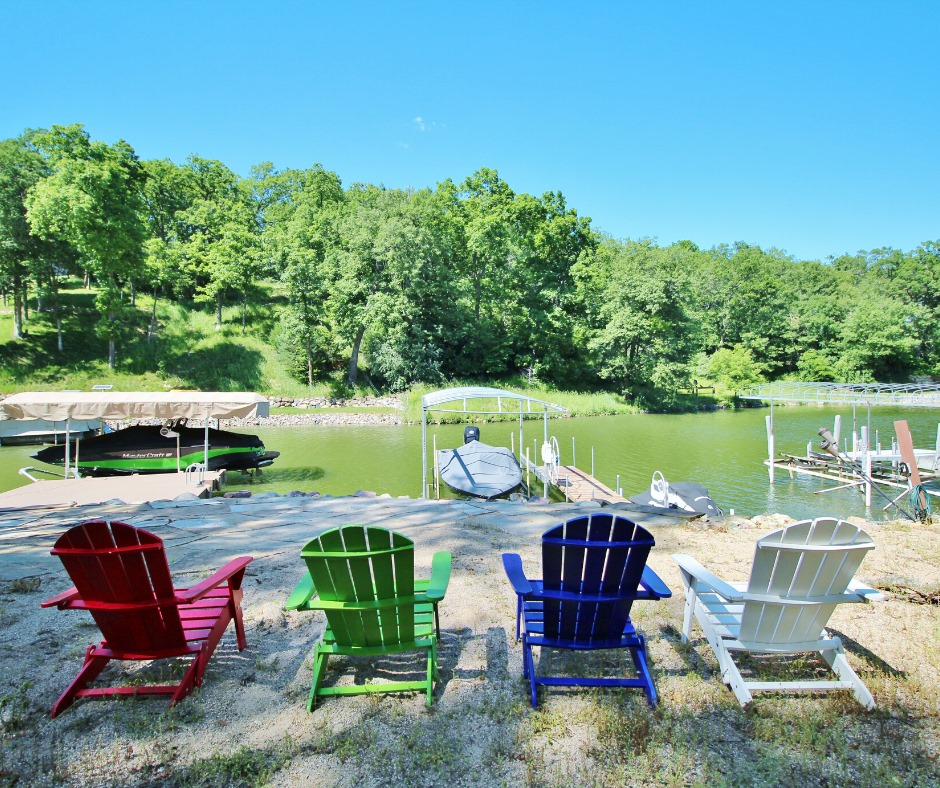 Home Shopping Day!
Be sure to wear slip-on comfortable shoes and dress in layers. Take good notes. Your agent will have great information, maps, and home disclosures for each home you tour. Plan for 20-30 minutes per home.
Time to Decide!
You have seen all the available homes and now is the time to decide which one is right for your family. Your agent will provide current comparables to help you decide on what to offer. Your agent will then present your offer, negotiate your purchase, and any other details of the purchase.
Congratulations on your accepted offer!! 
Welcome to Lake Panorama!!